🎁 Buy 2 & Get 1 Free! 

🎁
Add all 3 items to your cart to automatically get the discount.
Never Grill On A Nasty Dirty Grill Again!
Don't you just hate it when meat sticks to your barbecue grill? The GrillMate prevents exactly that from happening!

Made of glass fiber cloth coated with Teflon, both sides of this amazing mat is non-stick, preventing food from sticking to your grill!

Food-safe, non-toxic, and odorless, you can be sure that what you and your family will be eating is safe!

Thanks to its non-stick characteristic, your food will taste even better than before; and as an added bonus, the mat is also easy to clean as adhesion of food material is prevented!
The GrillMate will make grilling so much easier!
Get That Perfectly Grilled BBQ Everytime!
The GrillMate is designed for high temperatures and can withstand the heat of up to 260° Celsius! With its high heat resistance characteristic, you don't have to worry about it melting or ruining your food!

Its grid-shaped mesh design ensures that heat is evenly distributed on the meat you are barbecuing, allowing for better grilling! It also helps you clean the GrillMate quickly and conveniently!

The non-stick surface is smooth, making it extremely easy to clean!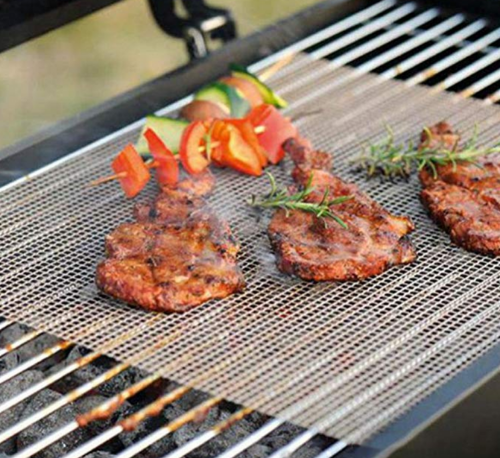 No More Burnt BBQ!
Save your food from burning with the GrillMate!
Say goodbye to meat sticking on your grill!
Forget about endless scrubbing just to get rid of barbecued meat!
Say hello to evenly grilled meat and convenient clean-up!
The GrillMate definitely gives you your best BBQ every time! 
Get the GrillMate now, and make barbecuing enjoyable and hassle-free!
Dimensions: 13*13" (33*33cm)